The photo taken on Sep 13th, 2014 shows that the 50-meter-long road is divided into two parts, with one warning pedestrians of potential danger when they are obsessed with the mobile phones. A sidewalk for mobile phone users has been built along a street called Yangrenjie or foreigners' street in Southwest China's Chongqing city recently.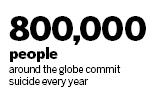 World Suicide Prevention Day
Expert calls for strategy to keep suicide rate low
China needs to establish national prevention strategies to help maintain a declining suicide rate, a top specialist said. "Given suicide's complexity, to maintain an ever-declining trend requires an all-out effort by all of society and various government departments," said Huang Yueqin, director of the National Center for Mental Health, on World Suicide Prevention Day, which was Wednesday. The nation's suicide rate has been declining over the past two decades and now stands at 8.7 out of 100,000 people, according to a World Health Organization report on Sept 4. In the mid-1990s, it was 23 out of 100,000, the report said.
Give me the gift of a grip top sock: a drip-drape, ship-shape, and tip-top sock给我一双有禁袜带的袜子:悬挂状的,船状的,品质一流的袜子。10-35
A dream doesn't become reality through magic ,it takes sweat, determination and hard work1039
It's time we went home.是时候该回家了 0934
Knowledge can change your fate and effort can accomplish your future.——0932