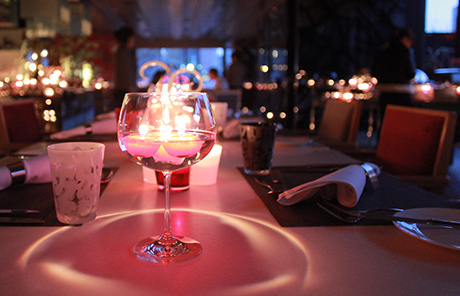 Kempinski hosts Earth Hour celebration
Kempinski Hotel Beijing hosted its second Global Earth Hour campaign on Saturday.
Werner Kleber, chairman of Green Inspiration Committee and the director of finance for Kempinski Hotel Beijing, said the hotel has put a lot of effort into saving energy.
The hotel demonstrated its commitment to saving energy ______ changing the light bulbs in the public areas to ______ with better power efficiency.
Kempinski gave away free energy efficient LED light bulbs ______ all guests who attended the candlelight dinner and ______ who stayed at the hotel on March 23.
______ part of the event, Kempinski invited guests to light candles in the hotel lobby ______[participate] in the Global Earth Hour campaign.
http://www.chinadaily.com.cn/video/2013-03/24/content_16343977.htm
First lady sparks frenzy over domestic fashion brands
The moment when China's first lady P*** made her diplomatic debut upon her arrival at Moscow on Friday - wearing a dark navy overcoat, a light turquoise silk scarf with a matching handbag - the Chinese fashion industry got a boost.
Images of Peng stepping off a plane arm-in-arm with her husband, President X***, have circulated widely on the Internet, prompting praise for her style, which Web users described as understated and sophisticated.
It's not clear which company or companies designed the clothes worn by Peng in Moscow.
While a report in China Business News said Peng was wearing a jacket and purse made by Exception de Mixmind - a top-end Guangzhou-based brand - another report on news portal Sohu.com said the Guangzhou Administration of Quality and Technology Supervision confirmed that Peng's clothes were custom-made by Ma Ke, the chief designer for the Wu Yong brand.
Both brands have declined to comment.
However, regardless of the brand, Peng's endorsement of Chinese labels has surprised millions of Chinese who favor foreign fashion brands.
A good student is always equal to one who gets good grades. But is that all that a good student is? What is a 1 good student? Is he someone who is the teacher's pet? Someone who tops every test? Someone who has the smarts? A good student is all this and more, because, you see, it's not just about books and repetitive 2 .

Being a good student takes much more than that. There are certain 3 that make him a good student. That is 4 what we shall be looking into – the qualities of a good student. There will help you 5 what a good student is and what are the qualities that one needs in order to become one.

A good student has great 6 skills. He has the ability to plan and organize not only his actions but his 7 as well, for being well organized allows a person to be prepared for all the situations that are to 8 . That could not have been 9 if he had taken up the studies at the last minute.

Knowledge is a key 10 that defines(定义)a student. Possessing knowledge that is not only limited to books but also 11 things about current affairs and other things allows him to draw from all that he possesses and use it in his studies.

There is nothing that comes without hard work and that is exactly what a good student has to possess. A 12 student is not someone who will turn away from work, or try to find 13 to get the work done 14 or for the sake of finishing it. Instead, he is someone who will do his work 15 and put in all his efforts without compromising on quality.

1.A.specially B.nearly C.mainly D.really

2.A.performing B.learning C.counting D.guessing

3.A.choices B.activities C.qualities D.viewpoints

4.A.simply B.merely C.completely D.exactly

5.A.understand B.predict C.assume D.settle

6.A.physical B.organizational C.mental D.traditional

7.A.thoughts B.performances C.conducts D.directions

8.A.share B.manage C.follow D.find

9.A.valuable B.worthy C.vital D.possible

10.A.view B.role C.aspect D.effect

11.A.includes B.concludes C.affects D.matches

12.A.good-looking B.hard-working C.cool-headed D.warm-hearted

13.A.places B.roads C.tools D.ways

14.A.fast B.carefully C.well D.badly

15.A.roughly B.eventually C.sincerely D.carelessly
The phone is ringing at the other end of the line and it clicks as it is being answered. A voice says quickly, "Hello. Will you hold, please?" Then there is another click, followed by silence. It seems like hours before someone comes back on the line—that is, if you don't hang up first.
Office calls are, perhaps, the most difficult and the most important part of a secretary's work. The first impression that a client receives about a business is very often through a telephone contact. A caller who is left hanging on "hold" will get the feeling that he or she has been forgotten or ignored. If a call is answered rudely, the caller may become angry. And if the call is not routed directly to the right person, the caller may feel that he or she is getting the "runaround".
Laura Needham is a secretary in the executive office of a large manufacturing company. As a good office secretary, Laura knows that all phone calls must be answered without delay and handled efficiently. She knows that a secretary must be pleasant and helpful, no matter how busy she is or what kind of mood she may be in. She knows she must keep calm if a caller gets impatient or becomes angry; also, of course, she knows she can never allow herself to lose her temper. If she does not have the information the caller asks for, she must know who does have the information. Finally, she knows that one of her most important responsibilities is to "screen telephone calls" and to know which calls to refer to her boss, which calls to refer to other people, and which calls to handle herself.
A well-handled telephone call will give the caller a good impression of the company he or she is dealing with. For this reason, an office secretary who can handle telephone calls cheerfully, tactfully (老练的), and efficiently is a valuable asset to any organization.
5.Good secretaries find it ______ to handle office calls well.
A. very boring B. very important
C. quite necessary D. extremely difficult
6.The underlined word "runaround" here means ______.
A. a flat refusal
B. a not-so-warm welcome
C. an unpleasant refusal
D. an unhelpful response
7.In Laura's opinion a secretary can never be a good one until ______.
A. she often asks her boss how to answer a telephone call
B. she knows how to please her clients
C. she has the information that her clients need
D. she can keep calm and never loses her temper
8.This passage is mainly about ______.
A. well-handled telephone calls
B. an efficient office secretary called Laura Needham
C. the importance of how office calls are dealt with
D. a secretary being a valuable asset to her company
Earlier this week I was at a store after the holiday season, and while waiting in line I 31 a very stressed out Dad with his two sons waiting in line to purchase a car seat for the younger child.

The father was asking if he could buy the display model because it would be 32 than the others. The cashier 33 that he could buy the display model 34 that there was no box for it. He said that was just 35 with him.

Then he asked if there were any additional coupons(优惠券)to bring the 36 down just a little bit more. The cashier was doing her best to 37 some additional savings coupons for this young father; but wasn't 38 much of anything in her drawer.

I used to be a people-watcher, but found that as I 39 this activity for about five minutes I was beyond 40 to help -- and I had no idea why, but before I could really think about it I found myself digging through my 41 for the 10 to 15 dollars in coupons I knew I had.

But I found nothing. I gave him $20 cash. The father said he couldn't 42 it, but appreciated my offer. The cashier was 43 in the same mode as I was in wanting to help this young family; and took the money toward his 44 with a smile on her face - the seat 45 coming to around $50 instead of the original $90+.

As the Dad collected his small children and began to 46 he looked at me and said, " You really shouldn't have done that but I thank you so much -- you just made certain that we will all get to eat today."

My reply was simple. Be 47 or years from now, simply do the same or something extra for someone else you don't know; and that would 48 me tenfold(十倍地).

What really got to me out of this whole experience is that it made me realize a small thing can have a huge 49 in the long run; as long as the chain isn't 50 .

31. A. believed B. noticed C. heard D. followed

32. A. bigger B. taller C. nicer D. cheaper

33. A. expected B. thought C. replied D. disagreed

34. A. if B. but C. until D. unless

35. A. fine B. wrong C. hopeful D. kind

36. A. profit B. cost C. product D. business

37. A. locate B. print C. save D. borrow

38. A. ending up with B. looking forward to

C. referring to D. coming up with

39. A. reported B. recorded C. observed D. felt

40. A. sad B. moved C. excited D. surprised

41. A. model B. books C. pockets D. gifts

42. A. appreciate B. offer C. receive D. accept

43. A. hardly B. obviously C. fortunately D. occasionally

44. A. order B. attitude C. appearance D. method

45. A. lacked in B. ended up C. went on D. came to

46. A. drive back B. turn down C. walk away D. wake up

47. A. tomorrow B. yesterday C. afternoon D. morning

48. A. praise B. encourage C. impress D. repay

49. A. room B. point C. impact D. shock

50. A. valuable B. broken C. tight D. strongks5u
by
ones
to
those
As
to participate
5.B。细节理解题。由文章最后一句话的内容,就可得出答案。
6.D。猜测词义题。由第二段第四句中"If a call is answered rudely, the caller may become angry. And if the call is not routed directly to the right person, ..."的内容可推测出runaround是"推诿"的意思。
7.D。推理判断题。由文章第三段内容可得出答案。
8.C。主旨大意题。通读全文即可归纳出文章的中心。
31 – 35 BDCBA 36 – 40 BADCB 41 – 45 CDBAB
46 – 50 CADCB
38柯林斯高阶英汉双解学习词典
Come up with
1. PHRASAL VERB
想出,提出(计划、想法等)
If you
come up with
a plan or idea, you think of it and suggest it.
Several of the members have come up with suggestions of their own...

有几位成员提出了自己的建议。

30 years ago, scientists came up with the theory that protons and neutrons are composed of three smaller particles.

30年前,科学家们提出了质子和中子是由三种更小的粒子组成的理论。
2.
PHRASAL VERB
设法拿出(所需钱款)
If you
come up with
a sum of money, you manage to produce it when it is needed.