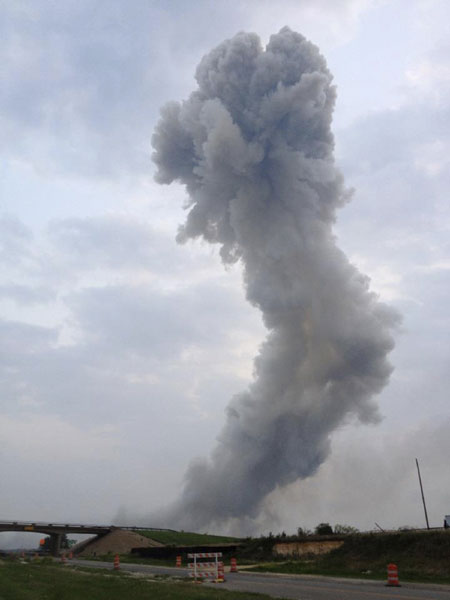 Hundreds believed injured in Texas fertilizer plant blast
The blast was reported at about 8 p.m. CDT (0100 GMT on Thursday) in West, _____ town of some 2,700 people about 80 miles (130 km) south of Dallas and 20 miles (32 km) north of Waco.
"It's a lot of devastation. I've never seen anything like this," said McLennan County Sheriff Parnell McNamara. "It looks like a war zone with all the debris."
There was no immediate official word on _____ sparked the explosion as emergency personnel assisted victims and doused the flames.
A spokesman for the Texas Department of Public Safety, D.L. Wilson, told Reuters the blast had probably caused "hundreds of casualties" and damaged many homes. He added that a nearby nursing home _____【collapse】 from the explosion and _____people were believed trapped inside.
McNamara said the nursing home and much of the center of town had been evacuated, and that residences near the explosion had been leveled.
The air in town remained thick with smoke more than two hours after the explosion, and the area around the blast site was littered with shards of wood, bricks and glass.
A Reuters reporter observed that a nearby middle school and several homes were severely burned. Dallas television station WFAA reported from helicopters that roughly a three-block area of West appeared _____【destroy】.
More than 100 people were being taken to Hillcrest Baptist Medical Center in Waco, said vice president of hospital operations David Argueta.
Hillcrest CEO Glenn Robinson told CNN that the hospital was seeing "everything from orthopedic injuries to patients that are experiencing serious blood loss."
Governor Rick Perry issued a statement _____【say】 his office had "mobilized state resources to help local authorities" deal with the incident.
A White House official said the Obama administration was aware _____the situation and monitoring local and state response through the Federal Emergency Management Agency.
The explosion came two days before the 20th anniversary of a fire in Waco that engulfed a compound inhabited by David Koresh and his followers in the Branch Davidian sect, ending a siege by federal agents.
第二节语法填空(共10小題;每小题1.5分,满分15分)
Although $10 seemed a lot for a guided walking tour, I'd paid up like most of the others 16 _____ (stay) at the hotel. The tour 17 _____ (suppose) to start at 9 o'clock , so we were getting a little angry and were just about to give up 18 _____the guide finally turned up at the reception 30 minutes late. The girl, 19 _____ turned out to be an unexperienced guide on her first day of the job ,explained that she 20 _____ (leave) home on time but had had to go back as she'd forgotten the tour maps. First of all, she sorted out which of us already' had maps and which didn't. We eventually set out at a little after 10,more than an hour 21 _____ schedule and started heading for the old town. Although there were only about ten of us, I found 22 _____ hard to hear her commentary as she seemed to be talking to only the three or four people 23 _____ (close) to her. Finally, after a visit to a beautiful old church was cancelled abruptly, I decided to forget 24 _____$ 10 and rely on my own map and intelligence for a more 25 _____ (person) tour of the town.
第二部分 阅读(共两节,满分50分)
A
My grandparents actively practiced simplicity. They both grew up in very large families and lived through the Great Depression. Saving for a rainy day and avoiding superfluous consuming was their life philosophy. Rather than seeking fulfillment through material items, they chose to spend really simple life together, with family and in nature.
Over the years my grandparents noticed dramatic changes in their community. Every year more farmland was destroyed to build larger and larger homes. As real estate prices rose, many of their neighbors sold their little homes and land. Soon theirs were the only small house on the block, surrounded by a sea of mansions. My grandparents built and lived m a small 600-square-foot cottage for most of their adult lives. Lots of family members encouraged my grandparents to expand their little old house. But they didn't want a bigger place. They loved their little house and were content with what they had.
My grandparents avoided consumptive(浪费的)lifestyle by painting and repairing the house themselves. They lived in a small home, but had a huge garden. They loved gardening and planting because it reduced their grocery bill, improved their health, and gave them an excuse to be outside. They also reused and recycled everything. For instance, they had driven the same car for over 15 years and didn't buy a new one until the old Chevrolet was worn out.
Through their example I learned an important lesson: It is possible to live a simple and fulfilling life. My grandparents taught me that living a simple life isn't about self-deprivation. Instead, it's about giving yourself the time, freedom, and money to pursue your dreams. Becoming debt free, downsizing to a smaller home, and going car-lite (减少用车频率)are a few ways to take control of your life and start pursuing your dreams.
26.The underlined word superfluous in Paragraph I is closest in meaning to _____.
A. meaningful B. unnecessary C. increasing D. troublesome
27.The community's changes include all the following EXCEPT that _____
A. the people built more farmland
B. the neighbors sold their houses
C. the houses became more expensive
D. many mansions were built there
28.The author's grandparents didn't expand their house because _____.
A. they didn't accept the family members'1 advice
B. their house were really new and large enough
C. they were satisfied with the house they lived in
D. they were too old to do any house-building job
29. Which of the following is a consumptive lifestyle in the grandparents'opinion?
A. Repairing the house themselves.
B. Planting vegetables in the garden.
C. Reusing and recycling things.
D. Changing cars in a short time.
30.The author thinks his grandparents, lifestyle is _____.
A. unacceptable B. approvable C. unreasonable D. understandable
a
what
had collapsed
that
to have been destroyed
saying
of
语法填空:
16.staying 17.was supposed 18.when 19.who 20.had left
21.behind 22.it 23.closest/closer 24. the/that/my 25.personal
阅读理解:
26-45BACDB