Fossilized tracks show dinosaurs could swim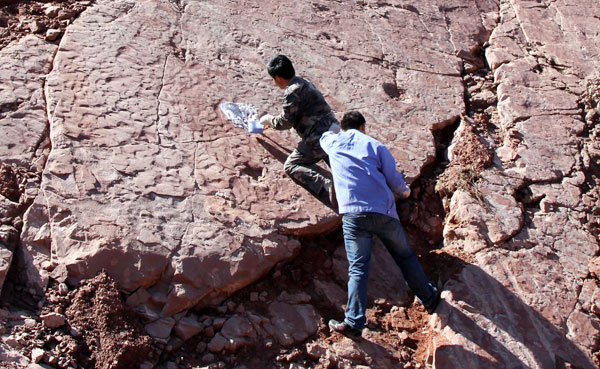 One hundred million years ago, a fierce carnivorous dinosaur chased a smaller dinosaur all the way to the river bank. Because of its fear of water, the predator stopped, as its prey jumped into the water and swam away.
So the story would go in popular science literature, but a carnivorous dinosaur that lived somewhere in the mountainous area of southwestern Sichuan province did not stop. It jumped into the water and left a 15-meter track of claw marks.
On Monday, Chinese scientists announced that they found swim tracks of a carnivorous dinosaur, producing strong evidence that two-legged dinosaurs were good swimmers.
The swim tracks found on a mountain in Zhaojue county, Sichuan, are the first well-preserved example of a swimming carnivorous dinosaur in Asia, and an addition to the scant examples of such tracks being found anywhere.
The research was published in Chinese Science Bulletin on Monday.
"Dinosaur swim tracks have been found in Britain, Poland, the United States and Spain. Compared with earlier tracks, ours is special because it is well preserved and rather long," said Xing Lida, an author of the research.
"I suddenly had a flash when I saw the claw prints: every footprint was formed of three parallel claw marks, which extend all the way up along the rock ledge," Xing said.
"The dinosaur's claw marks show it was swimming along in this river and just its tiptoes were touching bottom," said Scott W. Persons IV, a co-author of the paper.
Based on the claw marks, which cover a distance of 15 meters, the researchers infer that the dinosaur swam with coordinated leg movements.
"The dinosaur swims by alternating movements of its hind legs, which push it forward like oars," said Martin Lockley, a co-author from the US.
"Swimming could be the born ability of dinosaurs, just like dogs'," he said.
Worldwide, the first compelling evidence of dinosaurs being able to swim was discovered in 2007, when 12 footprints were found in the bed of an ancient lake in northern Spain.
http://www.chinadaily.com.cn/china/2013-04/12/content_16394734.htm
A lot of interesting things have happened in the past several months as people from all walks of life learn how to stretch their money. A lot of changes have been accelerated by the fuel shocks during the summer of 2008; in a lot of ways we seem to be reverting to the frugal(economical) sensibilities of a past generation. More people are choosing to be more picky when they swipe their credit cards even if that means not buying things until they have money in their bank accounts, the days of the $0-down mortgage(抵押贷款)seem to be murdered, and there is a lot more acceptance of environmentally-friendly technologies that promise to reduce our overall dependency on foreign oil even if it means taking a hit to the excesses that used to define our quality of living.
An interesting new trend being taken by small businesses is the practice of offering discounted prices to customers willing to pay in cash. This is not the same as paying "under the table"---rather, the store saves its merchant processing fees and passes those savings on to the customers. The idea is a good one in principle---paying in cash forces consumers to take stock of what they are spending as much as it saves stores from transaction(交易) fees.
Of course there are drawbacks to the plan. When people pay in cash, they tend to be more conservative with their spending since they tangibly(really) feel their money leave their possession. That will cause stores to lose profits because customers will think twice before buying high—margin "impulse" products at checkout whereas before they might not have thought twice before charging it. Increased volume of cash handling opens stores to loss through employee theft at the till(抽屉), not to mention controls that need to be put into place to count and deposit physical currency.
Our family has saved a fortune by switching to cash. When getting to the bottom of your change jar means no more purchase power until your next pay period, you really start to appreciate the fine art of merchandising(做买卖) and the expertise applied to make you want to buy more and more. Cold hard cash feels more organic, and helps us to appreciate the effort it takes to maintain our lifestyle.
56. From the passage, we can learn that __________.
A. customers are in a more favorable position by paying in cash.
B. people will not be allowed to use their credit cards if there is no money in their bank account.
C. people have adjusted their way of living to the new situation.
D. people are living better than before by paying in cash.
57. By saying "people from all walks of life learn how to stretch their money", the author means that _________.
A. people walk to work in order to save money.
B. people of all professions learn to make the best use of their money.
C. people of the whole society learn to earn more money.
D. all people learn to extend money so that it is worth more.
58. When the customers pay their goods in cash, the stores will be affected in the following ways EXCEPT ­­­­­­­­­­­­­­­___________.
A. the sale of their goods will decrease as the customers are more reluctant to buy things.
B. there is a potential danger of money loss by their staff.
C. it brings a burden to the stores as they need to deal with the cash.
D. the stores make less money as they need to give some money back to the customers.
59. What caused people to start to use cash instead of credit cards?
A. The rising prices. B. High unemployment. C. The fuel shocks. D. The economic crisis.
60. What's the author's attitude towards the practice of paying in cash?
A. Approving B. Ridiculous C. Uninterested D. Opposed
The park bench was deserted as I sat down to read beneath an old willow tree. Not

36 with life, I was down. A young boy out of breath 37 me, all tired from play. He stood right before me with his head tilted(倾斜的) down, 38 with great excitement,"Look what I found!"

In his hand was a flower, and what a 39 sight, with is petals(花瓣) all worn—not enough rain, or too little light. 40 him to take his dead flower and go off to play,I 41

a small smile and then shifted away. But instead of 42 he sat next to my side and placed the flower to his nose and declared with 43 ,"It surely smells pretty and it's beautiful, too. That's why I 44 it; here, it's for you."

The flower before me was dying or dead. But I knew I must 45___it, or he might never leave. So I reached for the flower, and 46 , "Just what I need."But instead of placing the flower in my hand, he 47 it mid-air without reason. It was then that I 48

for the very first time the boy was 49 .

I heard my voice shake, tears shone like the sun 50 I thanked him for picking the very best one. He smiled, and then ran off to play, 51 of the effect he'd had on my day.

I sat there and 52 how he managed to see a self-pitying woman beneath an old willow tree. How did he know of my self-indulged(放纵的) 53 ? Perhaps from his heart, he'd been blessed with true 54 .

Through the eyes of a blind child, at last I could see, the problem was not connected with the world; the problem was me. And for all of those times I myself had been blind, I vowed to see__55___, and appreciate every second that's mine.

36.A.excited B.inspired C.satisfied D.disappointed

37.A.approached B.overlooked C.understood D.talked

38.A.telling B.saying C.informing D.talking

39.A.unique B.rough C.bothering D.pitiful

40.A.Wanting B.Demanding C.Persuading D.Inviting

41.A.played B.adjusted C.forced D.delivered

42.A.declining B.accepting C.panicking D.quitting

43.A.surprise B.embarrassment C.sympathy D.sorrow

44.A.took B.pulled C.sold D.picked

45.A.bring B.fetch C.take D.smell

46.A.announced B.replied C.declared D.whispered

47.A.grasped B.held C.caught D.seized

48.A.convinced B.confirmed C.noticed D.refused

49.A.strange B.blind C.deaf D.unimaginable

50.A.once B.after C.as D.since

51.A.unaware B.unbelievable C.regretful D.regardless

52.A.doubted B.felt C.found D.wondered

53.A.embarrassment B.depression C.pleasure D.effort

54.A.sense B.hearing C.sight D.ability

55.A.beauty B.disability C.fantasy D.wonder
56—60 CBDCA
36——40 CABDA 41-----45 CDADC 46——50 BBCBC
51——55 ADBCA