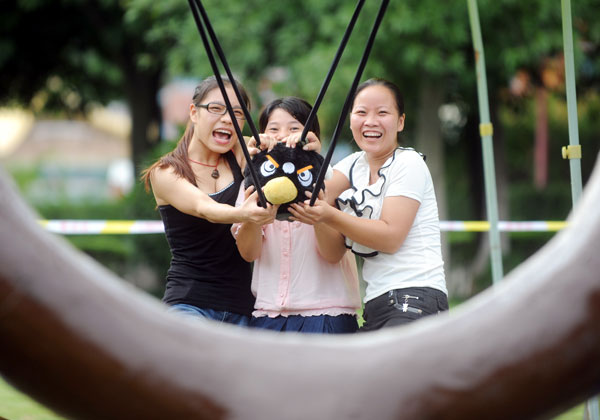 OCT Group finds formula for success
As many theme parks struggle, a State-owned enterprise has flourished. Huang Ying examines the reasons behind the company's rapid growth.
Theme parks may seem to be a good choice for property tycoons and eager speculators in the current economic environment, as the government continues to tighten controls on the real estate market and boosts the development of the culture industry. However, the fact is that among the theme parks now operating in the Chinese mainland, only a fraction of them make a profit, analysts say.
Overseas Chinese Town Group is one of the few that dedicates itself to the culture industry among State-owned enterprises. Under the management of the State-owned Assets Supervision and Administration Commission, OCT Group has established a well-organized layout for theme parks across the country over the past two decades.
The tourism and culture giant's first theme park, Splendid China, opened in Shenzhen, Guangdong province, in 1989.
OCT Group developed some other projects that can be categorized into three types. One kind is amusement parks, entertaining people and offering recreation services, while another offers resorts, combining leisure activities and scenic spots for tourists. The third type comprises miniaturized scenic spots.
The Happy Valley parks belong to the first group. They have gained in popularity since the first one opened in Shenzhen in 1998.
Many people think a telephone is essential. But I think it is a pest and a time waster. Very often you find it impossible to escape from some idle or curious chatter - box, or from somebody who wants something for nothing. If you have a telephone in your own house, you will admit that it tends to ring when you are asleep, or in the middle of a meal or a conversation, or when you are just going out, or when you are taking your bath. Are you strong - minded enough to ignore it, to say to yourself, "Ah, well, it will all be the same in a hundred year's time?" You are not. You think there may be some important news or messages for you. I can assure you that if a message is really important it will reach you sooner or later. Have you never rushed dripping from the bath, or chewing from the table, or dazed from the bed, only to be told that you are a wrong number?
But you will say, you need not have your name printed in the telephone directory, and you can have a telephone which is only usable for outgoing calls. Besides, you will say, isn't it important to have a telephone in case of emergency —— illness, an accident, or fire? Of course, you are right, but here in a thickly populated country like England one is seldom far from a telephone in case of dreadful necessity.
I think perhaps I had better try to justify myself by trying to prove that what I like is good. I admit that in different circumstances —— if I were a tycoon (business VIP), for instance, or bed - ridden I might find a telephone essential. But then if I were a taxi - driver I should find a car essential.
Let me put it another way: there are two things for which the English seem to show particular talent: one is mechanical invention, the other is literature. My own business happens to be with the use of words but I see I must now stop using them. For I have just been handed a slip of paper to say that somebody is waiting to speak to me on the telephone. I think I had better answer it. After all, one never knows, it may be something important.
64. The passage is mainly discussing ___________.
A. that we should be strong enough to ignore a phone call
B. that important message will reach you sooner or later
C. whether it's necessary to answer all phone calls
D. whether it is necessary to have a telephone
65. Judging from the passage, who is strong - minded enough to ignore a phone call?
A. The author. B. A tycoon.
C. A taxi-driver. D. Hardly anyone.
66. According to the passage, the author ___________.
A. thinks the telephone should go out of our life
B. likes to be different from other people
C. thinks the telephone is annoying
D. speaks favorably of a telephone
67. In the author's opinion, which of the following is NOT true?
A. Nearly everyone has been told a wrong number.
B. It's necessary for everyone to have a telephone.
C. He himself can not decide whether to answer a call.
D. A telephone directory may bring in unexpected calls.
第一节 完形填空(共15小题;每小题2分,满分30分)
阅读下面短文,掌握其大意,然后从1~15各题所给的A、B、C和D项中,选出最佳选项,并在答题卡上将该项涂黑。
When she looked ahead, Florence Chadwick saw nothing but a solid wall of fog, Her body was 1 . She had been swimming for nearly sixteen hours.

Already she was the first woman to 2 the English Channel in both directions. Now, at age 34, her 3 was to become the first woman to swim from Catalina Island to the California coast.

On the July Fourth morning in 1952, the sea was icy and the fog was so heavy that she could 4 see her support boats. Sharks swam toward her lone figure, only to he 5 away by gun shots. Against the cold sea water, she struggled on -- hour after hour -- while millions watched on national 6 .

Alongside Florence in one of the boats, her mother and her trainer offered encouragement. They told her it wasn't much farther. But what she could see was 7 .They urged her not to 8 . She never had … until then. With only a half mile to go, she asked to be pulled out.

Several hours later, she told a reporter, "Look, I'm not 9 myself, but if I could have seen 10 , I might have made it." It was not tiredness or even the cold water that defeated her. It was the fog. She was 11 to see her goal.

Two months 12 , she tried again. This time, despite the same 13 fog, she swam with her faith and her goal 14 pictured in. her mind. She knew that somewhere behind that fog was land and this time she 15 it! Florence Chadwick became the first woman to swim the Catalina Channel!

1. A. cold B. numb C. thin D. weak

2. A. pass B. dive C. swim D. fly

3. A. mother B. record C. success D. goal

4. A. hardly B. nearly C. clearly D. probably

5. A. pulled B. swept C. driven D. cleared

6. A. scene B. television C. radio D. race

7. A. fog B. shark C. boat D. wall

8. A. swim B. go C. try D. quit

9. A. blaming B. excusing C. crying D. enjoying

10. A. coach B. fog C. land D. California

11. A. unhappy B. unwilling C. unlucky D. unable

12. A. ago B. later C. before D. long

13. A. heavy B. wet C. solid D. cold

14. A. heavily B. easily C. clearly D. suddenly

15. A. did B. forgot C. chose D. made
精彩视频
http://www.chinadaily.com.cn/video/2013-03/29/content_16358066.htm
D D C B
1-5 BCDAC 6-10 BADBC 11-15 DBACD