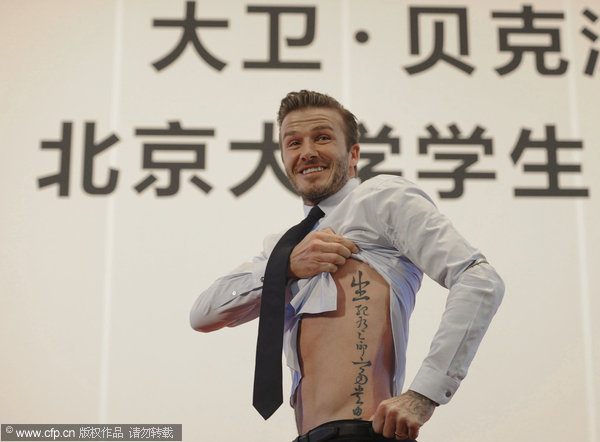 WUHAN - Football superstar David Beckham continued his China tour in the central city of Wuhan amid enthusiastic cheering Saturday, but many wonder if it is just some sort of publicity stunt for Chinese football which is battling to recover from corruption and match-fixing scandals.
The former England captain is on a five-day visit to three Chinese cities as a "global ambassador" for the Youth Football Program in China and the Chinese Super League (CSL), the country's top-flight league, while his current club Paris Saint-Germain are on a break.
The new appointment is seen as an attempt by the CSL to further popularize itself home and abroad and inspire young people to participate in the sport, after its image had been tarnished by a string of corruption and match-fixing scandals that resulted in dozens of referees, officials and players being jailed or banned.
Beckham's schedule in Beijing, Qingdao and Wuhan included visits to local schools and football clubs, brief kickabouts with young students - still wearing his suit, tie and shiny formal shoes - as well as news conferences.
From airports to hotels and stadiums, security was tight and crowds of fans who had gathered hours before his arrival shouted and waved banners bearing his portrait and words such as "Little Becks, we love you."
At news conferences, the 37-year-old tried to dodge questions about the scandals and his earnings from the ambassadorship. Instead, he reiterated that his focus was on educating children and developing the sport at grassroots level.
"What has gone on in the past? I am not a politician so I have nothing to do with it," he said in Beijing. "I am not here to clear up anything. I am here to educate the children and give them a chance of becoming professional footballers."
The $ 11 billion self – help industry is built on the idea that you should turn negative thoughts like " I never do anything right" into positive ones like "I can succeed." But was positive thinking advocate Norman Vincent Peale right? Is there power in positive thinking?
Researchers in Canada just published a study in the journal Psychological Science that says trying to get people to think more positively can actually have the opposite effect: it can simply highlight how unhappy they are.
The study's authors, Joanne Wood and John Lee of the University of Waterloo and Elaine Perunovic of the University of New Brunswick, begin by citing older research showing that when people get feedback which they believe is overly positive, they actually feel worse, not better. If you tell your dim friend that he has the potential of an Einstein, you're just underlining his faults. In one 1990s experiment, a team including psychologist Joel Cooper of Princeton asked participants to write essays opposing funding for the disabled. When the essayists were later praised for their sympathy, they felt even worse about what they had written.
In this experiment, Wood, Lee and Perunovic measured 68 students' self-esteem. The participants were then asked to write down their thoughts and feelings for four minutes. Every 15 seconds, one group of students heard a bell. When it rang, they were supposed to tell themselves, "I am lovable."
Those with low self-esteem didn't feel better after the forced self-affirmation. In fact, their moods turned significantly darker than those of members of the control group, who weren't urged to think positive thoughts.
The paper provides support for newer forms of psychotherapy (心理治疗) that urge people to accept their negative thoughts and feelings rather than fight them. In the fighting, we not only often fail but can make things worse. Meditation (静思) techniques, in contrast, can teach people to put their shortcomings into a larger, more realistic perspective. Call it the power of negative thinking.
1.What do we learn from the first paragraph about the self-help industry?
A.It is a highly profitable industry.
B.It is based on the concept of positive thinking.
C.It was established by Norman Vincent Peale.
D.It has yielded positive results.
2.What is the finding of the Canadian researchers?
A.Encouraging positive thinking may do more harm than good.
B.There can be no simple therapy for psychological problems.
C.Unhappy people cannot think positively.
D.The power of positive thinking is limited.
3.What does the author mean by "you're just underlining his faults" in the third paragraph?
A.You are not taking his mistakes seriously enough.
B.You are pointing out the errors he has committed.
C.You are emphasizing the fact that he is not intelligent.
D.You are trying to make him feel better about his faults.
4.It can be inferred from the experiment of Wood, Lee and Perunovic that .
A.it is important for people to continually keep their self - esteem
B.self – affirmation can bring a positive change to one's mood
C.forcing a person to think positive thoughts may lower their self - esteem
D.people with low self – esteem seldom write down their true feelings
Dear son,

The day that you see me old, have patience and try to understand me.

If, when I speak to you, I repeat the same things thousand and one times, do not 36 me, listen to me. When you were 37 , I had to read to you thousand and one times the same story until you get to sleep.

When I do not want to have a 38 , neither shame me nor scold me. Remember when I had to 39 you with thousand excuses I invented 40 you wanted to take a bath.

When you see my 41 on new technologies, give me the necessary time and do not look 42 me with your mocking smile. I taught you 43 to do so many things —to eat well, to dress well, and to face life.

When 44 I lose the memory or the thread of our conversation , let me have the necessary time to remember ; and if I cannot do it , do not become nervous, 45 the most important thing is not my conversation but 46 to be with you and to have you listening to me .

47 I do not want to eat, do not force me. I know well when I need to and when not.

When my 48 legs do not allow me walk, give me your hand, the same way I 49 when you gave your first 50.

And when some day I say to you that I do not want to live any more, and that I want to die, do not get angry. Some day you will understand. Try to understand that my age is not lived but 51 . Some day you will discover that, 52 my mistakes, I always wanted the 53 thing for you and that I tried to prepare the way for you .You must not feel sad , angry or helpless for seeing me near you. You must be 54 to me , try to understand me and to help me as I did it when you started living . Help me to walk , help me to end my way with love and patience . I will 55 you by a smile and by the love I have had always for you .

I love you, son.

Your father

36. A. annoy B. blame C. interrupt D. cheat

37. A. young B. small C. curious D. sick

38. A. shower B. walk C. talk D. rest

39. A. scold B. leave C. chase D. forgive

40. A. now that B. in that C. in order that D. in case that

41. A. complaint B. ignorance C preference D. knowledge

42. A. after B. up C. for D. at

43. A. why B. when C. what D. how

44. A. for the moment B. in a moment C. at one moment D. at the moment

45. A. as B. until C. but D. while

46. A. exactly B. mostly C. awfully D. surely

47. A. If only B. If necessary C. If anything D. If ever

48. A. tired B. long C. energetic D. graceful

49. A. do B. did C. give D. gave

50. A. words B. steps C. orders D. smiles

51. A. stressed B. suffered C. survived D. slowed

52. A. besides B. among C. despite D. from

53. A. worst B. most C. good D. best

54. A. next B. cruel C. polite D. blind

55. A. remember B. pay C. owe D. kiss
China and Tanzania signed trade and cultural exchange agreements on Sunday as President Xi Jinping arrived in the African country for a two-day visit.
It is the second leg of Xi's first overseas trip as president. The visit signifies Beijing's "brotherly" relations with Africa, experts said.
Xi met with Tanzanian President Jakaya Mrisho Kikwete soon after his arrival in Dar es Salaam, the biggest city in Tanzania, on Sunday afternoon.
After talks, the leaders witnessed the signing of a number of documents, covering cooperation in areas such as trade and culture.
"My visit aims to consolidate the traditional friendship between China and Tanzania, plan future cooperation and push forward joint development," Xi said in a written statement issued at the airport.
Surfing—the art of riding a wave on a pointed board—is the wildest, fastest natural water sport known to man. In recent years, it has developed into a major sport around the world, from Australia to South Africa. Australians brave(挑战) men—eating sharks to ride the green waves Down Under, Hawaiian experts risk(冒…之险) their lives on huge, thirty-foot swells(浪涛) against the wind of Oahu; Californians of all ages go out the year-round. In the winter, surf-riders put on life-suits to ride grave waves so cold that their flesh turns blue.
Surfing is no sport for weak persons. Swimming a quarter of a mile or more, and pushing a surfboard out to where the swells are just right for riding, can be real work. Then, at exactly the right moment, you climb up the wave and go fast across the face of a powerful swell with the white water jumping at your feet. The huge wave bites at your shoulder, threatening(威胁) at any moment to smash your flat. In the next several seconds, a cool head and lightning—quick action back to the pressure of the attacking wave will bring your board under control for that great ride down the back of the great, green mountain of water. Once on the beach, you know why surfing is growing in popularity as an international sport, and you're glad to be a member of this new water world.
1. The first paragraph mainly tells us ______.
A. people around the world go surfing all the year round
B. the definition(定义) of the sport
C. how to surf in the sea
D. where to surf around the world
2. The author believes that surfing _______.
A. is not an easy sport B. can be done by anyone
C. should be done by everyone D. does not require courage
3. In order to experience what real surfing is, _______.
A. you must first swim a quarter of a mile to warm your body
B. you will first ride on a board to reach the swells
C. you must first put on your life-suits before doing surfing
D. you must first swim to the swells with your board
Dear Dio,

Thank you for your note. I like your 1 between death and failure. I had not thought of these two in the 2 way that you describe. I thank you for bringing this to my 3 .

Your insights are very deep. 4 you say, "death is only a(n) 5 but failure can change someone's whole life." Yes, death is final. Failure is temporary. Death leaves us with 6 .But failure can leave us with lessons which will 7 our lives.

I hope that your failure to pass that 8 English test will help you 9 it will hurt you. Please remember that it is not being 10 down that is important. It is the inability to get up that is 11 . You will have to learn to get up ,and to get going. Failure is the "staying down." It is not the "falling down."

From reading your letter, I 12 your English to be very good. You write better than 13 of my American friends. I do not know the reason for 14 your English test. Maybe you were distracted that day. It is 15 that persons are judged on the basis of a single test.

You write well, you 16 your feelings with excellence, and you think 17 . These characteristics should 18 you move toward a bright career. Just don't let yourself "stay down." Get up and 19 them all know that you are talented and you are 20 to succeed. I think you will.

With best wishes for a fine career.

1.A.idea B.comparison C.thought D.reason

2.A.same B.wrong C.correct D.right

3.A.attention B.heart C.head D.home

4.A.Which B.When C.What D.As

5.A.end B.result C.fact D.thing

6.A.something B.nothing C.anything D.thinking

7.A.increase B.improve C.honor D.treasure

8.A.easy B.simple C.terrible D.ordinary

9.A.as good as B.as well as C.more than D.much than

10.A.fallen B.stayed C.knocked D.felt

11.A.impossible B.possible C.necessary D.important

12.A.judge B.accept C.prefer D.expect

13.A.all B.any C.one D.some

14.A.succeeding B.passing C.finishing D.failing

15.A.likely B.reasonable C.a shame D.fair

16.A.find B.express C.speak D.tell

17.A.deeply B.thoroughly C.carefully D.widely

18.A.leave B.drive C.help D.start

19.A.get B.ask C.show D.let

20.A.devoted B.determined C.engaged D.supposed
Does a drink a day keep heart attacks away? Over the past 20 years, numerous studies have found that moderate alcohol consumption--say, one or two beers, glasses of wine or cocktails daily-- helps to prevent coronary heart disease. Last week a report in the New England Journal of Medicine added strong new evidence in support of that theory. More important, the work provided the first solid indication of how alcohol works to protect the heart.
In the study, researchers from Boston's Brigham and Women's Hospital and Harvard Medical School compared the drinking habits of 340 men and women who had suffered recent heart attacks with those of healthy people of the same age and sex. The scientists found that people who sip one to three drinks a day are about half as likely to suffer heart attacks as nondrinkers are. The apparent source of the protection: those who drank alcohol had higher blood levels of high-density lipoproteins (脂蛋白), the so-called good cholesterol (胆固醇), which is known to repel heart disease.
As evidence has mounted, some doctors have begun recommending a daily drink for patients of heart diseases. But most physicians are not ready to recommend a regular happy hour for everyone. The risks of teetotalling are nothing compared with the dangers of too much alcohol, including high blood pressure, strokes and liver troubles--not to mention violent behaviour and traffic accidents. Moreover, some studies suggest that even moderate drinking may increase the incidence of breast and colon (结肠) cancer. Until there is evidence that the benefits of a daily dose of alcohol outweigh the risks, most people won't be able to take a doctor's prescription to the neighbourhood bar or liquor store.
69. The medical article quoted in the passage demonstrates ______
A. the way in which alcohol can help the heart
B. how a couple of cocktails daily can stop heart problems
C. why alcoholic drinks are dangerous to one's health
D. that reports on the advantages of alcohol were misfounded
70. Experiments showed that nondrinkers had ______.
A. larger amounts of good cholesterol
B. smaller amounts of good cholesterol
C. higher blood pressure
D. lower blood pressure
71. According to the passage, moderate drinking ______.
A. is recommended by most doctors for heart patients
B. should be allowed on prescription
C. is still not medically advisable
D. is not related to liver problems
72. The main theme of this passage is ______.
A. the change in recent drinking habits
B. the connection between cancer and alcohol
C. whether moderate drinkers outlive nondrinkers
D. whether alcohol may be good for your health
A Standard of Excellence

My l4-year-old son, John, and I spotted the coat almost at the same time in the secondhand clothing store. __36__ the other coats were hanging down loosely, this one looked as if it were __37__ itself up. The thick, black wool was soft and unworn. It had a black velvet collar, beautiful tailoring and an __38__ price of $28. We looked at each other, saying nothing, but John's eyes shone. Dark, woolen overcoats were popular with teenage boys, but could cost several hundred dollars new. This coat was even better, __39__ that touch of classic elegance from long ago.

John tried it on and turned from side to side, __40__ himself in the mirror with a(n) __41__, studied expression that soon changed into a smile. The __42__ was perfect.

John wore the coat to school the next day and came home with a wide smile. "How did the kids like your coat?" I asked. "They __43__ it!" he said, carefully folding it over the back of a chair and __44__ it flat.

Over the next few weeks, a change came over John. __45__ replaced contrariness; __46__, reasoned discussion replaced argument. He became more mannerly and more thoughtful, eager to __47__ me. "Good dinner, Mom," he would say every evening. One day when I suggested that he might start __48__ homework before dinner, John, who was always putting off doing stuff, said, "You're __49__. I guess I will."

When I __50__ this incident to one of his teachers and remarked that I didn't know what caused the __51__, she said laughing, "It must be his coat!" At the library, we ran into a friend who had not seen our children for a long time, "Could this be John?" he asked, looking up to John's new height, __52__ the style of his coat and extending his hand, one gentleman to another.

John and I both know we should never __53__ a person's clothes for the real person within them. But there is something to be said for __54__ a standard of excellence for the world to see, for practicing standards of excellence in thought, speech, and behavior, and for __55__ what is on the inside to what is on the outside.

36. A. While B. Unless C. Since D. As

37. A. carrying B. putting C. holding D. pushing

38. A. unreasonable B. unbelievable C. unacceptable D. unreliable

39. A. developing B. indicating C. adopting D. bearing

40. A. eyeing B. admiring C. questioning D. measuring

41. A. serious B. excited C. puzzled D. doubtful

42. A. brand B. figure C. result D. fit

43. A. approved B. loved C. desired D. enjoyed

44. A. pressing B. smoothing C. beating D. ironing

45. A. Acceptance B. Affection C. Agreement D. Acquaintance

46. A. wild B. quiet C. fair D. detailed

47. A. please B. help C. change D. remind

48. A. at B. from C. in D. on

49. A. helpful B. considerate C. right D. great

50. A. explained B. announced C. presented D. mentioned

51. A. choices B. growth C. feeling D. changes

52. A. analyzing B. assessing C. checking D. consulting

53. A. trust B. judge C. mistake D. blame

54. A. setting B. applying C. meeting D. wearing

55. A. adjusting B. comparing C. preferring D. matching
---北京市朝阳区2012—2013学年度高三年级第一学期期末统一考试英 语 试 卷
BBCD
完形填空(共20小题;每小题1.5分,共30分)
36—40 ACBDA 41—45 ADBBC 46—50 BADCD 51—55 DBCDD