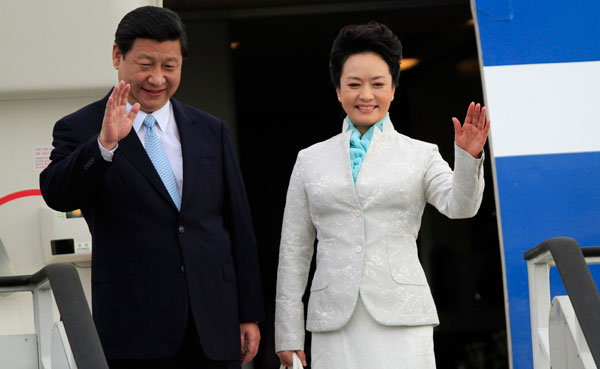 Xi's visit shows China-Africa 'brotherly' ties
China and Tanzania signed trade and cultural exchange agreements on Sunday as President Xi Jinping arrived in the African country for a two-day visit.
It is the second leg of Xi's first overseas trip as president. The visit signifies Beijing's "brotherly" relations with Africa, experts said.
Xi met with Tanzanian President Jakaya Mrisho Kikwete soon after his arrival in Dar es Salaam, the biggest city in Tanzania, on Sunday afternoon.
After talks, the leaders witnessed the signing of a number of documents, covering cooperation in areas such as trade and culture.
"My visit aims to consolidate the traditional friendship between China and Tanzania, plan future cooperation and push forward joint development," Xi said in a written statement issued at the airport.
The $ 11 billion self – help industry is built on the idea that you should turn negative thoughts like " I never do anything right" into positive ones like "I can succeed." But was positive thinking advocate Norman Vincent Peale right? Is there power in positive thinking?
Researchers in Canada just published a study in the journal Psychological Science that says trying to get people to think more positively can actually have the opposite effect: it can simply highlight how unhappy they are.
The study's authors, Joanne Wood and John Lee of the University of Waterloo and Elaine Perunovic of the University of New Brunswick, begin by citing older research showing that when people get feedback which they believe is overly positive, they actually feel worse, not better. If you tell your dim friend that he has the potential of an Einstein, you're just underlining his faults. In one 1990s experiment, a team including psychologist Joel Cooper of Princeton asked participants to write essays opposing funding for the disabled. When the essayists were later praised for their sympathy, they felt even worse about what they had written.
In this experiment, Wood, Lee and Perunovic measured 68 students' self-esteem. The participants were then asked to write down their thoughts and feelings for four minutes. Every 15 seconds, one group of students heard a bell. When it rang, they were supposed to tell themselves, "I am lovable."
Those with low self-esteem didn't feel better after the forced self-affirmation. In fact, their moods turned significantly darker than those of members of the control group, who weren't urged to think positive thoughts.
The paper provides support for newer forms of psychotherapy (心理治疗) that urge people to accept their negative thoughts and feelings rather than fight them. In the fighting, we not only often fail but can make things worse. Meditation (静思) techniques, in contrast, can teach people to put their shortcomings into a larger, more realistic perspective. Call it the power of negative thinking.
1.What do we learn from the first paragraph about the self-help industry?
A.It is a highly profitable industry.
B.It is based on the concept of positive thinking.
C.It was established by Norman Vincent Peale.
D.It has yielded positive results.
2.What is the finding of the Canadian researchers?
A.Encouraging positive thinking may do more harm than good.
B.There can be no simple therapy for psychological problems.
C.Unhappy people cannot think positively.
D.The power of positive thinking is limited.
3.What does the author mean by "you're just underlining his faults" in the third paragraph?
A.You are not taking his mistakes seriously enough.
B.You are pointing out the errors he has committed.
C.You are emphasizing the fact that he is not intelligent.
D.You are trying to make him feel better about his faults.
4.It can be inferred from the experiment of Wood, Lee and Perunovic that .
A.it is important for people to continually keep their self - esteem
B.self – affirmation can bring a positive change to one's mood
C.forcing a person to think positive thoughts may lower their self - esteem
D.people with low self – esteem seldom write down their true feelings
Dear son,

The day that you see me old, have patience and try to understand me.

If, when I speak to you, I repeat the same things thousand and one times, do not 36 me, listen to me. When you were 37 , I had to read to you thousand and one times the same story until you get to sleep.

When I do not want to have a 38 , neither shame me nor scold me. Remember when I had to 39 you with thousand excuses I invented 40 you wanted to take a bath.

When you see my 41 on new technologies, give me the necessary time and do not look 42 me with your mocking smile. I taught you 43 to do so many things —to eat well, to dress well, and to face life.

When 44 I lose the memory or the thread of our conversation , let me have the necessary time to remember ; and if I cannot do it , do not become nervous, 45 the most important thing is not my conversation but 46 to be with you and to have you listening to me .

47 I do not want to eat, do not force me. I know well when I need to and when not.

When my 48 legs do not allow me walk, give me your hand, the same way I 49 when you gave your first 50.

And when some day I say to you that I do not want to live any more, and that I want to die, do not get angry. Some day you will understand. Try to understand that my age is not lived but 51 . Some day you will discover that, 52 my mistakes, I always wanted the 53 thing for you and that I tried to prepare the way for you .You must not feel sad , angry or helpless for seeing me near you. You must be 54 to me , try to understand me and to help me as I did it when you started living . Help me to walk , help me to end my way with love and patience . I will 55 you by a smile and by the love I have had always for you .

I love you, son.

Your father

36. A. annoy B. blame C. interrupt D. cheat

37. A. young B. small C. curious D. sick

38. A. shower B. walk C. talk D. rest

39. A. scold B. leave C. chase D. forgive

40. A. now that B. in that C. in order that D. in case that

41. A. complaint B. ignorance C preference D. knowledge

42. A. after B. up C. for D. at

43. A. why B. when C. what D. how

44. A. for the moment B. in a moment C. at one moment D. at the moment

45. A. as B. until C. but D. while

46. A. exactly B. mostly C. awfully D. surely

47. A. If only B. If necessary C. If anything D. If ever

48. A. tired B. long C. energetic D. graceful

49. A. do B. did C. give D. gave

50. A. words B. steps C. orders D. smiles

51. A. stressed B. suffered C. survived D. slowed

52. A. besides B. among C. despite D. from

53. A. worst B. most C. good D. best

54. A. next B. cruel C. polite D. blind

55. A. remember B. pay C. owe D. kiss
Surfing—the art of riding a wave on a pointed board—is the wildest, fastest natural water sport known to man. In recent years, it has developed into a major sport around the world, from Australia to South Africa. Australians brave(挑战) men—eating sharks to ride the green waves Down Under, Hawaiian experts risk(冒…之险) their lives on huge, thirty foot swells(浪涛) against the wind of Oahu; Californians of all ages go out the year-round. In the winter, surf-riders put on life-suits to ride grave waves so cold that their flesh turns blue.
Surfing is no sport for weak persons. Swimming a quarter of a mile or more, and pushing a surfboard out to where the swells are just right for riding, can be real work. Then, at exactly the right moment, you climb up the wave and go fast across the face of a powerful swell with the white water jumping at your feet. The huge wave bites at your shoulder, threatening(威胁) at any moment to smash your flat. In the next several seconds, a cool head and lightning—quick action back to the pressure of the attacking wave will bring your board under control for that great ride down the back of the great, green mountain of water. Once on the beach, you know why surfing is growing in popularity as an international sport, and you're glad to be a member of this new water world.
1. The first paragraph mainly tells us ______.
A. people around the world go surfing all the year round
B. the definition(定义) of the sport
C. how to surf in the sea
D. where to surf around the world
2. The author believes that surfing _______.
A. is not an easy sport B. can be done by anyone
C. should be done by everyone D. does not require courage
3. In order to experience what real surfing is, _______.
A. you must first swim a quarter of a mile to warm your body
B. you will first ride on a board to reach the swells
C. you must first put on your life-suits before doing surfing
D. you must first swim to the swells with your board
Dear Dio,

Thank you for your note. I like your 1 between death and failure. I had not thought of these two in the 2 way that you describe. I thank you for bringing this to my 3 .

Your insights are very deep. 4 you say, "death is only a(n) 5 but failure can change someone's whole life." Yes, death is final. Failure is temporary. Death leaves us with 6 .But failure can leave us with lessons which will 7 our lives.

I hope that your failure to pass that 8 English test will help you 9 it will hurt you. Please remember that it is not being 10 down that is important. It is the inability to get up that is 11 . You will have to learn to get up ,and to get going. Failure is the "staying down." It is not the "falling down."

From reading your letter, I 12 your English to be very good. You write better than 13 of my American friends. I do not know the reason for 14 your English test. Maybe you were distracted that day. It is 15 that persons are judged on the basis of a single test.

You write well, you 16 your feelings with excellence, and you think 17 . These characteristics should 18 you move toward a bright career. Just don't let yourself "stay down." Get up and 19 them all know that you are talented and you are 20 to succeed. I think you will.

With best wishes for a fine career.

1.A.idea B.comparison C.thought D.reason

2.A.same B.wrong C.correct D.right

3.A.attention B.heart C.head D.home

4.A.Which B.When C.What D.As

5.A.end B.result C.fact D.thing

6.A.something B.nothing C.anything D.thinking

7.A.increase B.improve C.honor D.treasure

8.A.easy B.simple C.terrible D.ordinary

9.A.as good as B.as well as C.more than D.much than

10.A.fallen B.stayed C.knocked D.felt

11.A.impossible B.possible C.necessary D.important

12.A.judge B.accept C.prefer D.expect

13.A.all B.any C.one D.some

14.A.succeeding B.passing C.finishing D.failing

15.A.likely B.reasonable C.a shame D.fair

16.A.find B.express C.speak D.tell

17.A.deeply B.thoroughly C.carefully D.widely

18.A.leave B.drive C.help D.start

19.A.get B.ask C.show D.let

20.A.devoted B.determined C.engaged D.supposed
【小题1】A
【小题2】A
【小题3】D
解析:
本文向我们介绍了冲浪这种运动的刺激性和冒险性。
1. A。主旨大意题。根据In recent years, it has developed into a major sport around the world 可知答案为A。
2. A。推理判断题。根据Surfing is no sport for weak persons(冲浪运动不适宜于那写体质虚弱的人)可知答案为A。
3. D。推理判断题。根据Swimming a quarter of a mile or more and pushing a surfboard out to where the swells are just right for riding, can be real work可知答案为D。
BAADA BBCCC DADDC BACDB