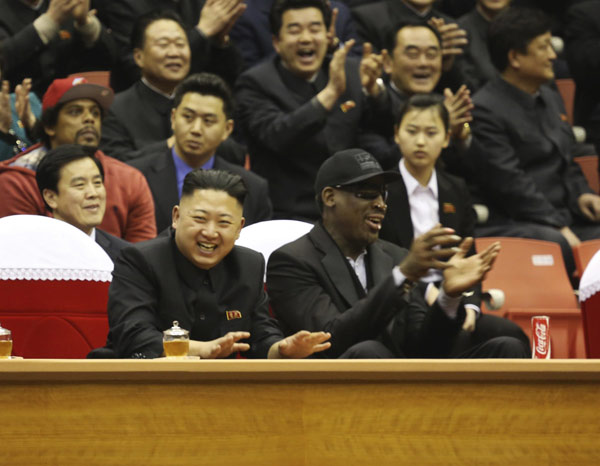 PYONGYANG - The Democratic People's Republic of Korea (DPRK)'s top leader Kim Jong-un and former NBA star Dennis Rodman sat together and watched a basketball game between US and DPRK players Thursday, witnesses said.
The competition ended in a 110-110 draw, with 12 DPRK players and four players from the US team Harlem Globetrotters divided into two teams.
Rodman said after the game that "although relations between the two countries are regrettable, personally I am a friend of Marshal Kim Jong-un and the DPRK people."
He thanked the DPRK for inviting the US players and himself for the visit, noting the game reflected the friendship between the two peoples.
2012年广州二模
I woke up this morning with a fright !

There appeared to be a mouse in my bed tickling my nose and 1 ____ scratching me. It had to be a mouse, for those tiny sharp little nails were scratching me all across my 2 ____.

It couldn't have been a(n) 3 ____ as I didn't own any pets; it couldn't have been a rat, because if what I had read about rats was 4 ____,their sharp teeth could 5 ____their way through solid stone. They do this because their front teeth never stop growing and this is the only way to keep them 6 ____.

I didn't dare to open my eyes and face the 7 ____of the disgusting mouse in the bed with me. I felt so dirty and 8 I didn't want to change my position cither, 9 ____the mouse would slide onto other areas of my body, which would 10 ____give me horrible dreams for years to come!

Despite my fears, I finally decided to swiftly 11 the mouse away. But it 12 __! I did it again and again and it kept coming back, every single time.

There was no way out. I had to face my enemy. I took a breath, gathered my 13 ____and slowly opened my eyes. To my relief, I saw something far 14 ____than a mouse and it all came back to me.

I had put my baby daughter Rebecca into bed beside me after her first bottle in the morning !

That also reminded me: I needed to trim (修剪)her _15___

1. A. warmly B. lightly C. wildly D. thoroughly

2. A. foot B. hand C. stomach D. face

3. A. mouse B. insect C. cat D. fly

4. A. true B. suitable C. interesting D. clear

5. A. fight B. pull C. carve D. wind

6. A. strong B. sharp C. slim D. short

7. A. horror B. thought C. risk D. cost

8. A. tired B. stupid C. uncomfortable D. disappointed

9. A. hoping B. fearing C. assuming D. doubting

10. A. gradually B. temporarily C. surely D. hardly

11. A. throw B. brush C. keep D. send

12. A. returned B. repeated C. dropped D. stayed

13. A. memories B. thoughts C. energy D. courage

14. A. softer B. cuter C. uglier D. worse

15. A. hair B. feet C. nails D. fingers
2012年广州二模英语试卷答案:
完形填空
1-5 BDCAC 6-10 DACBC 11-15 BADBC
Brush
1. (用刷子)刷,擦:
He brushed his coat clean.
他把自己的大衣刷干净。
Brush your teeth two times a day.
每天刷牙两次。
2. 涂,抹,掸,拂
3. (用毛笔)写;(用画笔)画
4. 轻拭,轻拂:
The spider web brushed my forehead.
蜘蛛网轻拂我的前额。
5. 除去;拭去;掸掉,刷掉:
Her hand brushed a speck of lint from her skirt.
她的手掸掉衣裙上的一点棉花絮。
6. 轻触,擦过;掠过;碰着:
Her lips brushed his nose.
她的嘴唇轻触了他的鼻子。
The plane just brushed the surface of the sea.
飞机刚好掠过海面。
7. 驱赶,追逼;推,挤:
He brushed his way through the crowd.
他从人群中挤了过去。
2012
年广州市普通高中毕业班综合测试(一)
The more accessible a company's services are, the more business it will do. Why are the same ___1___ not applied when it comes to Internet websites then? A Hong Kong study has found that the local sites of two leading ___2___, McDonald's and Motorola, are the most user-unfriendly of the 30 websites tested. The lack of ___3___ means they are not only losing customers, but ___4___ to meet their social responsibilities.

In an ever-more Internet-connected world, ___5___ are as important as physical shops or offices. They are ___6___ used as a way of banking, shopping and getting news. This is especially so for the disabled, who find it ___7___ to shop on-line than go to a store in person. A website that does not let them do this is the same as having a(n) "___8___" sign on a door.

In Hong Kong, it is ___9___ not to provide the disabled with access to schools and buildings, but at present there are no specific laws on Internet accessibility. However, companies are morally responsible for ensuring that their websites can be ___10___ by people who are visually disabled or have difficulty walking around. Ideals for design have long been put forward by the World Wide Web Consortium, a global community working on open standards to ___11___ accessibility and development.

Computer technology is ___12___ fast and it is now much easier to create websites that are ___13___ for all people, sighted or disabled. Companies should ensure that the designers of their websites ___14___ guidelines for accessibility. We should try to make our city as ___15___ as possible, on-line and off.

1. A. data B. principles C. experiences D. technologies

2. A. companies B. products C. stores D. factories

3. A. power B. study C. attraction D. access

4. A. deciding B. attempting C. failing D. stopping

5. A. computers B. hotlines C. signals D. websites

6. A. increasingly B. possibly C. extremely D. randomly

7. A. cheaper B. safer C. easier D. quicker

8. A. waiting B. sale C. open D. closed

9. A. unreasonable B. illegal C. unimportant D. impolite

10. A. found B. read C. known D. created

11. A. permit. B. discover C. start D. ensure

12. A. weakening B. dropping C. changing D. flying

13. A. wonderful B. usable C. harmless D. profitable

14. A. follow B. write C. break D. ignore

15. A. beautiful B. wealthy C. accessible D. respectable
第二节 语法填空(共10小题;每小题1.5分,满分15分)
阅读下面短文,按照句子结构的语法性和上下文连贯的要求,在空格处填入一个适当的词或使用括号中词语的正确形式填空,并将答案填写在答题卡标号为16~25的相应位置上。
A farmer once organized a competition between his dog and his rabbit. He dug a hole in one of his biggest fields, and hid a carrot and a bone in it. He wanted to see ___16___ animal would find them first.
The ___17___ (cheer) and optimistic rabbit threw himself into looking for the carrot, ___18___ (dig) here and there, totally convinced that he would find it. But the dog, after sniffing around for a bit, ___19___ (lie) down and began to complain about how difficult it, was to find one bone in such a big field.
The rabbit dug ___20___ hours, and with every new hole the dog complained even more about how difficult this was, even for the rabbit. ___21___ the rabbit thought that each hole dug was one hole less that needed digging. When there was no place in the whole field ___22___ (leave) to dig, the rabbit dug a tunnel right to ___23___ the dog had been lying all the time. There he found the carrot and the bone.
This is how the dog lost the game. He had come to ___24___ right place at the very beginning but failed to find the bone ___25___ he only complained and didn't try at all.
1-5 BADCD 6-10 ACDBB 11-15 DCBAC
16. which 17. cheerful / cheery 18. digging 19. lay 20. for 21. But 22. left 23. where 24. the 25. because / as / since
· The instructor ran to where she crash landed and pulled her out of the helicopter.
教练急忙跑到她坠毁的地方,把她从直升机里拉了出来。
· Most of us in the well-fed world give little thought to where our food comes from or how it's grown.
在这个食物丰足的世界里,我们大多数人很少去思考我们的食物从哪儿来,又是如何种植的。
The put them on a long rope and a machine pulls them to where they are needed.
他们用很长的绳子拴住石头,然后用机器把他们拉到所需的地方。
以上是where引导的名词性从句,更确切地说是宾语从句,介词to的宾语从句,
类似的还有
I don't know where he was born.【宾语从句】
Where he was born is not known to all. 【主语从句】
但是I don't the place where he worked.是定语从句。